Caring Profession at JJ Health
All our practitioners received full-time education of diplomas and clinical trainings, and are registered members at CTCMPAO, CTMO. Many of our practitioners are multi-professional and obtain dual licenses such as RMT and R.TCMP. We offer a variety of authentic Traditional Chinese Medicine(TCM) treatments, Registered Massage Therapist(RMT) massage, and Naturopathic and Osteopathic treatments that target a broad range of conditions, including body aches, pain after a vehicle accident to internal diseases, such as cough, insomnia, and headache, as well as cancerous diseases.
Acupuncture is an important part of traditional Chinese Medicine(TCM) treatment. By inserting a filiform needle into an acupoint, and applying various needling manipulation, it stimulates and promotes the smooth circulation of 12 meridians. In TCM Diagnosis, the blockage of meridians is the cause of body swelling, numbness, pain, and ecchymosis, and other body discomforts. TCM treatment is a natural approach to assist your body to regain its balance and block-free status.
1. carefully locate the acupoints in reference to body anatomy
2. steralize the selective acupoints
3. insert the needle into the patient's skin at a safe angle
4. lifting and twisting technique is used
Moxibustion is a warming treatment generated by igniting mugwort herb to stimulate acupuncture points or specific areas on the body surface.
The heat stimulation and herbal properties of mugwort can pass through the twelve meridians, able to warm all channels, disperse cold, eliminate dampness, supplement the body's yang qi, and promote blood flow. Our featured warm needling treatment (acupuncture

+moxibustion) is very effective for chronic pain relief, such as pain after car accidents, frozen shoulders, Bi Syndrome.
warm Needling at Jia Ji points at Lumbar Vertebrae to treat Spondylitis
warm Needling at the knees to treat Osteoarthritis
a closer view of burning mugwort stick by transferring heat to the needle, it has an anti-inflammation effect
TCM herbal medicine originates from nature and had been systematically recorded in Classics,
Shen Nong's Herbal Classic
for their clinical effect in disease treatment since Eastern Han Dynasty. The unique features and properties of each herb can adjust the imbalance of yin and yang in the disease.
Considerations when Intake Herbal Medicine
1. Typically it is best to take medicine 30 minutes to an hour prior to a meal. If you experience stomach discomfort after taking the medicine, take the medicine after meals.
2. It is better not to drink tea, coffee, milk, or soy milk for about an hour before and after drinking herbal medicine, to avoid chemical reactions between herbal ingredients and the tannin, caffeine, and soy protein, which will affect the efficacy of the medicine. 3. Generally take herbal medicine at a warm temperature. However, for the common cold and flu medicines, it is advised to take them while they are hot in order to achieve the purpose of sweating, as well as for medicines to dispel cold and promote blood circulation.
Herbal Dispensary at JJ Health, we have the most abundant herbs collection. At JJ Health, we use the premium quality herb, in powder: it's convenient and effective.
The treatment method of Gua sha is guided by the theory of meridians and acupuncture in Traditional Chinese Medicine. Through special scraping instruments and techniques, apply oil to the skin surface, repeatedly scraping and rubbing on the body surface, causing corn-like, dark red bleeding dots on the skin, called "sha" to appear on the scraping skin, thus achieving activating blood and detoxification. The principle of scraping is to solve the problem of "blockage and stagnation" and let the qi and blood "pass" to all parts of the human body.
Cupping is a traditional Chinese medicine technique that uses a jar as a tool. To remove air from the jar by burning and pumping, resulting in negative pressure, which is applied to the body surface of the acupuncture point or the area to be cupped, causing local skin congestion to prevent and treat diseases, also known as "suction tube therapy" According to the severity of the patient's condition, fire cupping can be divided into flashing, sliding, retaining, and stabbing cupping techniques. Cupping adjusts the function of the internal organs through the overall effect of meridians, qi, and blood, helping to eliminate evil and balance yin and yang, triggering the self-adjustment of the body. Cupping often uses with orthopedic disease, and excess, heat syndromes, as Cupping can relieve tendons and channels, relieve swelling and pain, dispel wind and remove dampness, etc., acting as a benign stimulus to promote the body to restore normal function.
Full-back cupping: retaining cupping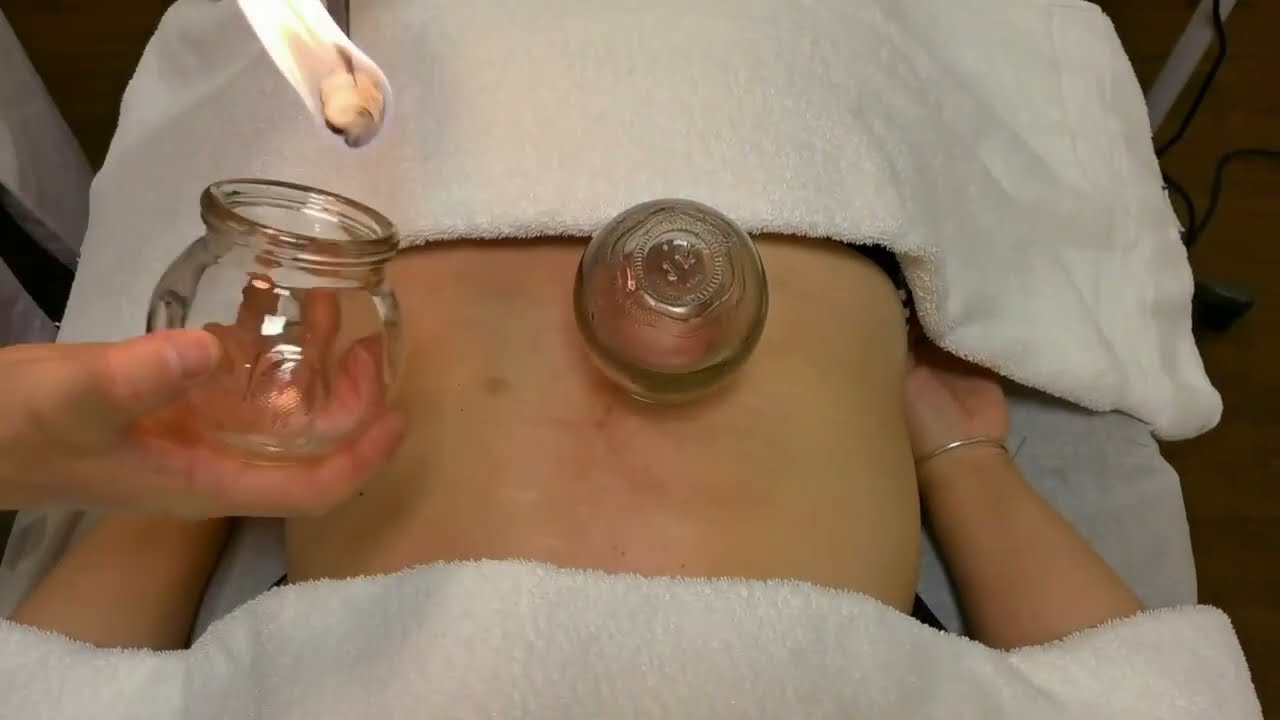 cupping on the lower back to treat the acute lumbar sprain
Nunc molestie massa a ipsum vehicula, vel placerat nisi vehicula. In quis varius sem. Proin cursus facilisis risus sed elit scelerisque in ultrices.
seven-star plum needle
bloodletting to treat ezcema
Acupuncture Manipulation at acupoint TE21/耳门 for Chronic Tinnitus